Contact Shows & Smith Law Firm PLLC, a Flowood, Mississippi Law Firm Today
No matter what type of legal problems you might have, you want an attorney who will always have your best interests in mind. Shows & Smith Law Firm PLLC, we handle a wide range of concerns for clients throughout Mississippi. Whether you are going through a divorce, buying a new house, or developing an estate plan, we can help you protect your rights throughout the process. Call us or submit the convenient form below to learn more about our services.
Bold labels and

indicate required information.
The moment you become our client, your legal problems come first. Whether we are negotiating contracts or taking a case to court, we are here for you. With offices in Flowood, Mississippi, our lawyers help clients with legal concerns in Jackson and throughout Mississippi. Contact us today to find out how we can help you.
Shows & Smith Law Firm PLLC
2950 Layfair Drive, Suite 101
Flowood, MS 39232
Toll Free: 866-965-3516
Phone: 601-326-1199
Fax: 601-664-0047
Map and Directions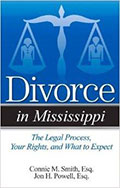 Most recent publication by attorney Connie M. Smith