Is your lawyer willing to do whatever it takes to protect your rights? If so, they better be ready and willing to handle the challenges of the courtroom.
At Shows & Smith Law Firm PLLC, we litigate in every area of our practice. From family law and real estate matters, to disputes over wills and trusts, our Jackson litigation attorneys will do whatever it takes to protect your rights.
Experienced Trial Lawyers
With more than 50 years of experience handling litigation, we know what to expect in court. Most important of all, we represent people, not huge companies. We represent people and growing businesses in Mississippi. We understand your concerns and we are not afraid to take on tough cases.
We have handled cases in the federal, state, and appeals courts of Mississippi. We also protect our clients in front of zoning boards and other regulatory bodies. We have taken cases all the way to the Mississippi Supreme Court, and we will fight for you as long as it takes to get the results you deserve. Providing both plaintiff's and defense counsel, we handle litigation involving:
Alternative Dispute Resolution
Litigation is not always the best way to resolve a dispute. In addition to helping our clients negotiate settlements and taking cases to court, we also provide arbitration and mediation services.
Contact an Experienced Courtroom and Negotiation Lawyer
Litigation is an important part of our practice. We are always prepared to do whatever it takes to protect the rights of our clients. Contact our Jackson litigation law office online today or call 601-326-1199 to find out more about your rights and options, if you are considering litigation in any of our practice areas.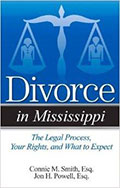 Most recent publication by attorney Connie M. Smith