What does the future hold for you and your family business? An experienced lawyer can help you develop the right estate plan. At the Flowood law offices of Shows & Smith Law Firm PLLC, we help clients plan for the future by using the right estate planning tools.
With the right combination of trusts, wills, and business entities, you can secure the future of your family and your family's business. Our Jackson estate planning lawyers are ready to assist you every step of the way, helping you protect your wealth and helping you achieve your goals.
Mississippi Wills and Trusts Lawyers
Many people believe that estate planning only applies to wills, but it is equally important in helping people when they are buying a piece of property or running a business. Most of the estate planning we do revolves around professionals, such as doctors, lawyers or accountants, and business owners. Whether you want to transfer your business to your family or protect it from the creditors, the right plan can help.
For example, if you are from Mississippi and you want to buy a condo in another state, it may be better to form a Mississippi limited liability company, and then buy the property through that LLC. This action will save your family from having to go through the probate process in the other state. If you are purchasing any real estate in another state, you should examine all angles before you complete the deal. The experienced Jackson estate planning lawyers of Shows & Smith Law Firm PLLC can help.
We represent a diverse set of clients interested in everything from business succession planning to out-of-state real estate transactions. Forming long-term relationships with our clients, we can help you protect your rights now, and we will be there in the future to handle any new challenges that arise. With a comprehensive litigation practice, we are always ready to protect your rights in court.
Contact a Jackson Estate Planning Lawyer
Providing you with our undivided attention, we will help you come up with a creative solution through the use of various estate planning tools. With offices in Flowood, Mississippi, we represent clients throughout Jackson and across Mississippi. Contact our wills and trusts law firm online today or call 601-326-1199 to schedule a consultation to learn how we can help you and your family.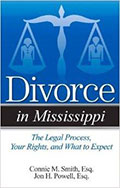 Most recent publication by attorney Connie M. Smith