Domestic Violence Explained
Domestic violence is not just an act of violence by a man toward a woman or by a husband toward his wife. It is becoming more and more common that the abuser may also be the woman toward a man or the wife toward her husband. Domestic violence can also occur in same-sex relationships. Domestic violence is violence between any of the following people:
Spouses
Former spouses
Persons living together as spouses
Persons who used to live together as spouses
Persons having children together
Persons who are dating
Persons who used to date each other
The Jackson domestic violence lawyers from Shows & Smith Law Firm PLLC are ready to listen to your situation and aggressively defend your rights in all domestic proceedings.
Examples of Domestic Violence in Mississippi
Domestic violence can take any of the following forms:
Attempting to cause harm to another
Intentional, knowing or reckless harming of another
Placing another in fear of harm by threat or physical menace
Stalking and cyberstalking
Domestic violence affects everyone in the household. Children raised in a home where domestic violence occurs are likely to become abusers themselves, or to accept that abuse is just a part of every relationship. Studies have shown that sons raised in such an environment often grow up to be abusers themselves, and daughters often grow up looking for the same abusive relationship which they saw their mothers in.
Domestic Abuse Protection Orders
If you are the victim of domestic abuse, devise a safety plan, get out, get to safety, and get help. We can help you obtain a domestic abuse protection order preventing your abuser from coming near you.
Getting the Help You Need
If you are a victim of domestic violence, you should seek help for yourself. There are resources available to you. One resource in Central Mississippi is The Center for Violence Prevention (601-932-4198).
Additionally, you should not be afraid to call local law enforcement. Although you may fear retribution from your abuser, this will assist you in documenting the violence, and this is often a good first step toward getting free from the abuser.
Contact a Jackson, Mississippi, Domestic Violence Lawyer
If you are the victim of domestic violence, male or female, contact a Jackson domestic violence attorney online or call 601-326-1199 to see what options are best for your situation.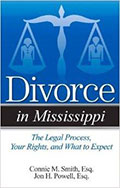 Most recent publication by attorney Connie M. Smith