Moving into a new home is a big step. A home is probably the largest single investment you will ever make. There are many things to consider when buying or selling a home, or when contracting to build your home. As experienced real estate lawyers, we can make sure that your investment is protected.
At the Jackson, Mississippi, law offices of Shows & Smith Law Firm PLLC, our Jackson residential real estate lawyers help you with your residential property concerns. If you are interested in buying a new home or selling your current home, we can help you through the process.
Mississippi Residential Real Property Representation
You do not need to go through a real estate agency to sell your home or to buy a new one. If you are interested in a home that is for sale by owner (FSBO), we can help you through every step in the process, handling everything from drafting the initial contract, to closing the sale. We can also help you find a lender to obtain the financing that works best for you.
In addition to being experienced real estate lawyers, we are an agent for Mississippi Valley Title Insurance Company and Old Republic Title Insurance Company. We have the capability to process your title, which allows us to take care of every step of your real estate transaction whether you are buying or selling.
Our residential real estate practice does not end at closing. We handle all related aspects of your transaction. There is no challenge too big or too small for us to handle. We will work with you every step of the way to help you protect your investment.
Residential Real Estate Litigation
At Shows & Smith Law Firm PLLC, we also provide litigation services for our clients involved in residential real estate disputes. We handle many disputes relating to the building of a new home. As you well know, in and around the Jackson area, it is common for Yazoo clay to be present. If the Yazoo clay is not removed properly, major issues will occur in the home's foundation. Over the years, we have skillfully represented both contractors and buyers who are involved in disputes over home construction. For more information about our experience in litigation, see our litigation page.
Contact a Jackson Real Estate Lawyer
Whether you need to facilitate a title transfer or you are involved in a home construction dispute, we can help you with all your residential real estate needs. Shows & Smith Law Firm PLLC represents individuals and growing businesses throughout Mississippi. Contact our residential real estate law firm online today or call 601-326-1199 to schedule a consultation.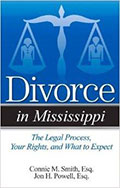 Most recent publication by attorney Connie M. Smith