Mississippi Child Support and Custody Attorneys
Whether you are going through a divorce or you are an unmarried parent, you want to do what is best for your children. Shows & Smith Law Firm PLLC helps individuals and families throughout the greater Jackson area seek child support, visitation and custody arrangements that keep their children's best interests first.
From child support plans to visitation schedules, our Jackson child support and child custody attorneys can help you both protect your rights and find a solution that works for your family.
Contact our Mississippi law firm online today or call 601-326-1199 speak to one of Shows & Smith Law Firm PLLC's experienced attorneys.
Child Support Representation: More than 60 Combined Years of Legal Experience on Your Side
In Mississippi, if a child is under 21 and is not emancipated, the non-custodial parent must pay child support based on the minimum statutory guidelines. If that parent's adjusted gross income is $50,000 or less, then they generally pay support according to the following guidelines, which represent a percentage of the non-custodial parent's adjusted gross income:
One child: 14%
Two children: 20%
Three children: 22%
Four children: 24%
Five or more children: 26%
However, if the adjusted gross income of an individual exceeds $50,000, the court can deviate from these guidelines. For example, if the non-custodial parent has an adjusted gross income of $150,000 annually and has two small children, it simply does not cost $30,000 a year to raise the children, even while letting them maintain their former standard of living. If requested, the judge will probably deviate from the guidelines in this situation, requiring less than the standard 20%.
Visitation and Custody Lawyers
There are two types of custody: legal custody, which determines decision-making rights, and physical custody, which determines where the child will live. The court generally favors joint legal custody, because it allows both parents to be involved in the important decisions that will affect their child. If custody cannot be agreed upon between the parents, the court will look at thirteen (13) factors, known as the "Albright factors." We will look at your case and help you determine your rights and options for custody as well as what visitation (parenting time) rights the non-custodial parent will have.
Contact a Mississippi Family Law Attorney
Getting a divorce can be complicated with many factors to consider, but we can help you come up with a plan that works. Shows & Smith Law Firm PLLC helps individuals throughout Mississippi find workable solutions to their family disputes.
Contact our child custody and visitation law office online today or call 601-326-1199 to schedule a FREE 30 minute divorce consultation.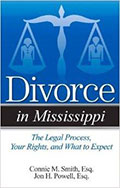 Most recent publication by attorney Connie M. Smith