Jackson, Mississippi, Family Law and Divorce Attorneys
Every family is unique, and an experienced family law attorney can help you find solutions as your family changes. At the law firm of Shows & Smith Law Firm PLLC, we help individuals and families throughout Mississippi with a wide range of family law problems.
Whether you are going through a divorce or are involved in a dispute over child custody or child support, our Jackson divorce attorneys can help you protect your rights and do what is best for you and your family.
Helping Mississippi Residents Through Divorce
Currently, about one out of every two marriages in the United States ends in divorce. If you are going through a divorce, you must consider issues such as:
Mississippi recognizes two distinct categories of causes for divorce. We can help you if you are involved in either of the following:
Fault Grounds: In these cases, one party did something wrong and the other party wants to prove it in order to obtain a divorce. Grounds for a fault-based divorce are set forth in Miss. Code Ann 93-5-1 and include adultery, habitual cruel and inhuman treatment, sentenced to penitentiary without pardon, impotency, incest, willful and continual desertion, habitual drunkenness, habitual and excessive use of drugs, insanity or idiocy at the time of marriage, preexisting marriage, preexisting pregnancy by another at the time of marriage, and incurable insanity (after the marriage).
No-Fault Grounds: When both parties realize that they no longer want to be married, they can file for a no-fault divorce (known as irreconcilable differences). By negotiating a written property agreement, the two parties can negotiate and agree how their marriage can be dissolved. An irreconcilable difference divorce must be consensual, and one can never be obtained without the consent of both parties.
Separate Maintenance Actions
Mississippi also recognizes the civil action called separate maintenance which applies to couples who are no longer together, but have not yet divorced. If one party leaves the relationship, the second party can file for separate maintenance, which asks the court to order that the person who left to either return to the marriage or to continue to support the family. This can be utilized as a tool to get financial support or as leverage in negotiating a more favorable divorce settlement.
Find out more about our family law services, including child support, child custody, alimony and post-divorce modifications.
Contact a Mississippi Uncontested Divorce Attorney
Getting a divorce can be complicated with many factors to consider, but we can help you come up with a plan that works best for you. Shows & Smith Law Firm PLLC helps individuals throughout Mississippi find workable solutions to their family disputes. Contact a Jackson divorce lawyer online to schedule a free 30-minute divorce consultation, or call 601-326-1199 to speak with one of our family law attorneys today.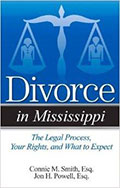 Most recent publication by attorney Connie M. Smith