Legal matters that affect the family can have a lasting impact on all involved. It is important for any individual facing an important family legal matter to work with an experienced, caring attorney who has his or her best interests in mind.
At Shows & Smith Law Firm PLLC, we are experienced and solution-focused attorneys who are committed to helping clients effectively resolve a wide range of family law matters. Schedule a consultation with a Jackson family law attorney today to learn more.
Family Law Legal Services
Shows & Smith Law Firm PLLC represents clients in a variety of family law legal matters:
Child support
Spousal maintenance and alimony
Legal separation
Post-divorce modifications
Contempt of court proceedings
Guardianships or Conservatorships
Youth Court proceedings
We are committed to protecting your personal interests and those of your children in family law proceedings. Children are often the most affected in family law proceedings — whether child custody or child support is being considered. It is important for parents to be more focused on meeting the needs of their children, and not focused on how best to hurt the other party — a goal shared by our firm and the Mississippi chancery court system.
We also represent clients in divorce proceedings in Mississippi. If you are interested in learning more about our divorce legal services, talk to an attorney from our firm.
Contact a Rankin County Child Support Modification Lawyer
Do you have questions about child support, child custody, alimony, or another family law matter? To learn more about our legal services for individuals and families, contact our family law office online today or call 601-326-1199 to schedule your initial consultation with one of our experienced attorneys.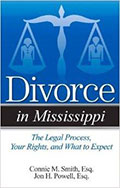 Most recent publication by attorney Connie M. Smith