Comprehensive estate planning that includes the right combination of documents like wills and trusts protect your family and ensures that your wishes are honored.
At the Jackson law offices of Shows & Smith Law Firm PLLC, our Jackson wills and trusts lawyers help clients from all backgrounds who are interested in planning for their future: Singles just getting started on a career; young people who are about to have a child; people who have lived long, fulfilling lives, but just now realize they need to do something about their estate. We also represent clients from diverse economic backgrounds.
Mississippi Estate Planning Lawyers
Estate planning is your chance to decide what you want to happen to your assets when you die. We use a number of estate planning tools to prepare a plan tailored to your needs. The plan could include:
Wills
Revocable trusts
Irrevocable Trusts
Life insurance trusts
Special needs trusts
Spendthrift trusts
Powers of Attorney
Advanced Healthcare Directives
Estate planning and Estate Administration often lead to the establishment of conservatorships or guardianships. A guardian is someone who has legal control over someone under the age of twenty-one, while a conservatorship is essentially a guardianship for someone over twenty-one who is in ill health or has special needs. Our attorneys help families with guardianships for a variety of different reasons or situations. Some situations are:
A parent dies without a will and leaves his or her estate to a minor, so a guardianship has to be established for the child.
A parent is killed in an accident and a life insurance payment is made to the minor children. In that instance, a guardianship would be established to hold such proceeds for the benefit of the children.
Both parents are deceased. There may or may not be money or assets, but somebody must be appointed as guardian of the children in order to make decisions regarding legal issues, health, education and religious matters.
Estate Administration Lawyers
We also handle the process of estate administration for our clients. We can help you handle the estate, probate the will or administer through the Chancery Courts. We also represent individuals involved in disputes over wills and trusts (including will contests). With an extensive litigation practice, we will take your case to court in order to protect your rights.
Contact a Mississippi Wills & Trusts Lawyer
From our offices in Flowood, Mississippi, we represent clients throughout Mississippi. We are here for you for all your planning and administrative needs. Shows & Smith Law Firm PLLC will help you find solutions. Contact our Jackson, Mississippi law office online today or call 601-326-1199 to find out more.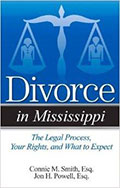 Most recent publication by attorney Connie M. Smith