"Connie is really professional and Stephanie is very helpful."
Katrina C.
"Honest, hardworking and friendly."
Rebecca C.
"My experience with this firm was very pleasant and I feel as if I have built a strong relationship here. Will be doing future business."
Gabriel B.
"Connie, Stephanie and the lawyer with Connie today (yes in my emotions I have forgotten his name), I want to say thank you and express how much I appreciate you. I felt a sense of I got this with you guys in my corner. You are amazing at what you do, all three of you."
M. Taylor
"Connie Smith is a very good lawyer and knows her job well. And Stephanie is a very good secretary."
D. Adams
"Connie is a very good attorney. She has a heart of gold."
Dionne W.
"Thank y'all so much for all y'all have done!! I have recommended y'all so many time because of all thehard work, commitment to your clients, always very timely in responding and doing things, nice,understanding and most of all putting up with all my questions and problems!! Y'all have given mehope when I had none in the court system, protected my girls and myself, made sure they were financially taken care of and made sure everything was In my agreement and best interest! Most importantly y'all have given me a life that I have always dreamed about!! That's for my girls to be happy, safe, and myself, I got my Identity back and found strength again because of everything y'all have done! I am gratefUl for everything y'll have done and do for my girls and myself!! From the bottom ot myheart THANK YOU!!"
Shanae S.
"Thanks to Connie and Stephanie for their kindness and help. I'm glad it's finally over."
Mary Ann A.
"Communication, professionalism, and dedication/loyalty are some of the GREAT attributes of this firm."
Troy W.
"Connie Smith and Stephanie Stapleton did an outstanding job. They responded to all my questions immediately. That speaks volumes in customer service!!"
Angie N.
"I believe Connie Smith is a real fair and good person that really cares about her clients and would recommend her to anyone needing legal service."
Damen T.
"Connie Smith is very helpful and responded to my questions or concerns promptly."
Allen W.
"Connie is excellent. Was always very supportive and available to all members of our family. Took a great amount of time with our son to explain to him all his options for custody of his child. Walked him through the process every step of the way. I just want to thank Connie on behalf of our entire family. Child custody issues are never easy but Connie did a fantastic job and made a difficult situation as easy as possible. I would also like for you to know how much we appreciate the customer service. She was always willing to talk with us and I am sure took time out of an already busy day to handle some situations that were not planned for. Thank you."
Robert W.
"Efficient and organized, consistent communication and good advice."
Bill P.
"I did not have to do any of the 'work' (previous lawyer that was not the case) and she got back to me in a timely fashion."
Lori B.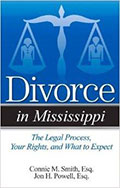 Most recent publication by attorney Connie M. Smith