Family Law · Real Estate · Wills and Trusts
When you have a legal problem, you want a lawyer and law firm dedicated to your needs. At the Jackson, Mississippi, law offices of Shows & Smith Law Firm PLLC, we represent people, not large companies. Whether you are going through a divorce, need advice about estate planning or are involved in a real estate transaction, you want someone on your side.
The Jackson, Mississippi attorneys at our individual and business services law firm will be there for you every step of the way.
Experienced Legal Representation With More Than 60 Years of Combined Experience
From the moment you contact our offices, our goal is to provide you with the personal service and dedication you deserve. We will listen to your concerns, and provide counsel based on meeting both your immediate needs and your long-term goals. When your case is finally resolved, we want you to know that we did everything we could to get the best results possible.
We have a diverse client base, ranging from individuals and families to growing small businesses. We know the court system and we are committed to the local communities of Jackson and the surrounding areas. With your best interests at heart, we will actively pursue your case to completion. As our client you come first, and we will do our best to help you.
Practice Areas: Serving Flowood and it's Surrounding Areas
Our firm focuses on the following practice areas:
Unlike many law firms, we litigate in all these areas. Visit our Practice Areas page to find out if we can help you with your legal problem.
Contact a Mississippi Real Estate Lawyer
Providing straight answers from the start, we will be there for you every step of the way, even if that means taking your case to court. Though our offices are located in Flowood, Mississippi, we represent clients throughout Mississippi. Contact an experienced family, business attorney online today or call 601-326-1199 to discuss your case and learn how we can help.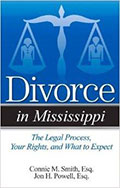 Most recent publication by attorney Connie M. Smith